DIY Exterior Fireplace
As you've read from previous posts, my husband and I are both fairly handy guys who enjoy tackling projects that are typically quite expensive when contracting. There is one rule: we don't undertake big projects unless there is strong ROI at re-sale...we've always held to this belief. As a Realtor, I live by this!!!
The latest project is a wood burning fireplace with two bins to hold logs.
Inman Select is stating an outdoor fireplace will result in 100% to 200% ROI, depending on the climate. For example, dropping $10,000 on an outdoor fireplace will result in higher ROI in Florida, California, Texas, Arizona, etc., compared to Minnesota. Personally, I find their claim dubious and too broad, but let's say that every dollar spent, in Orlando, will be returned at resale, which is 100% ROI. It will also add to the desirability of the property (at resale) by having outdoor living space and beautiful features.
Our particular fireplace and wood bins can be purchased in a pre-cut kit from RomanStone for $4,675, which includes delivery; if you need to hire someone to build it, the labor cost is essentially the material cost, so plan on another $4,675. Your ALL-IN for the kit and labor will be approx. $9,350.
Since we know the manufacturer in Orlando producing similar stones, we went directly to the source and bought our own, which cost $1,400 including delivery to the driveway...we had to haul the stone to the backyard.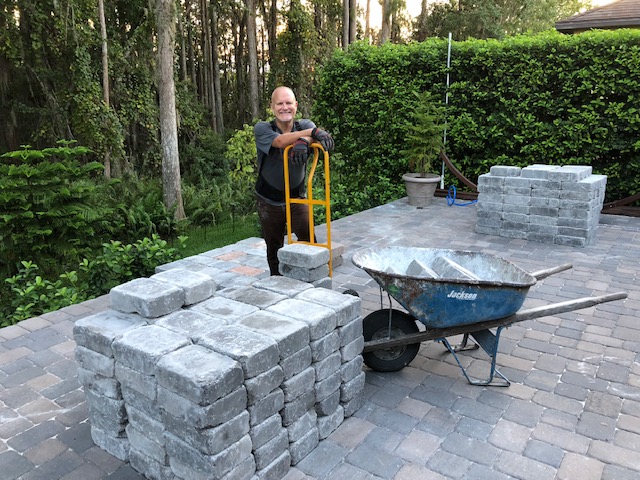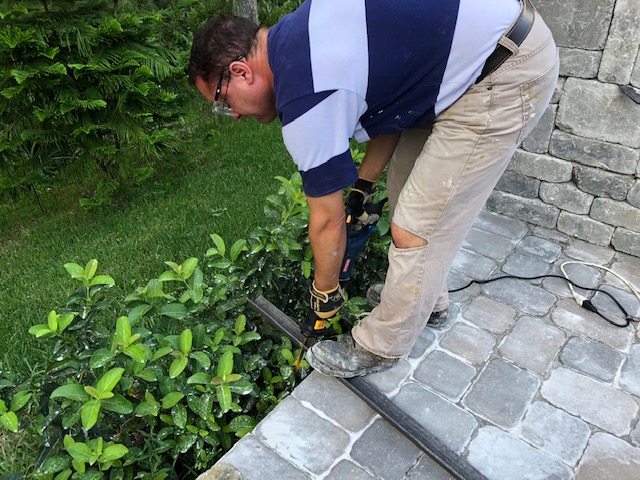 We had to cut some of the stones and create our own lintel stones, capstones and source and cut the angle iron support (Roberto seen in picture) for the opening. Other things, such as levels, squares, tape measure, concrete adhesive, concrete (for leveling low areas), saw rental and a rubber mallet are essential!! It sounds complicated, but it really isn't.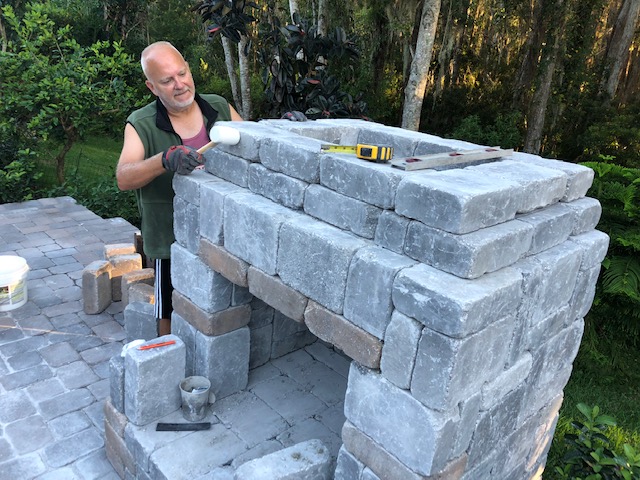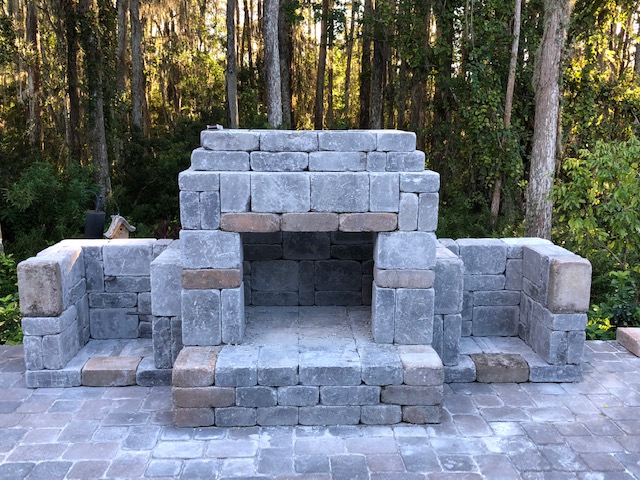 Half way there! We had approx. 34 of the tan stones piled in our yard from another project, so we decided to incorporate them into the final design to add visual interest and soften the slate colored stone. Above, I am aligning the stone for the chimney base using the rubber mallet.
I'll update once finished!!